Taiwan's unique position of being at the political crossroads of Asia and the West, a beacon of democracy and a longtime victim of Chinese wolf-warrior politics has fostered a healthy environment for human rights organizations, NGOs, and nonprofits to grow. Snowball, founded by American entrepreneur Colin Hodge, breaks into Taiwan's human rights scene at a time when growing concern over a regional trend towards authoritarianism has seen a surge in growth of human rights and activism related outlets.
Snowball distinguishes itself by bringing a new perspective towards human rights work to the table, shedding activism's traditional image of being 'radical' and 'serious', and instead focusing on what individual consumers can do to realize their power for change: by harnessing purchasing power to send a message.
I spoke with founder Colin Hodge, as well as Community Manager Lynn Deng and Events Organizer Zoe Chen to learn more about Snowball, and what they hope to bring to Taiwan's human rights activism scene, especially in a year where awareness about consumer power is at an all-time-high. Following the successful Taiwan pineapple campaign on Twitter and the recent Xinjiang cotton controversy that sparked both support and backlash in Asian markets, the team at Snowball hope to bridge the gap between human rights activism and the average person who may know and care about human rights issues, but doesn't know how to help the cause.
KM: Can you tell me more about how Snowball started off, and what it does?
Colin: Snowball is basically the brainchild of myself and my co-founder. We come from the startup world, we're entrepreneurs, and we wanted to use all of the things that we've learned about creating companies, growing businesses and building products to help human rights and freedoms, especially in Asia.
I have a special place in my heart for Taiwan in particular. I came here five years ago and then kind of fell in love with the culture and the people, and I realized there's an opportunity to bring together the power of consumers and our individual purchasing power along with doing good every day in our lives. If we can, for instance, support better companies when we are buying products or services, and tell them why we're supporting them, while not supporting those that are doing bad things when it comes to human rights, we're going to encourage overall industries to do better. And when we do that, then our collective power will be shown.
We've seen it in everything from the recent pineapple wars in Taiwan, to boycotts in the US, so I think it's very important that we come together and realize our power for change. Instead of relying on only lobbying via protesting or writing letters or relying on politicians to do everything for us, we can provide financial pressure – which is frankly the most powerful language that anybody can understand – hit them in the wallets basically, and encourage good behavior.
Taiwan in particular is very special because it's a beacon of hope in Asia at a time when so many governments are backsliding in terms of human rights, in terms of freedoms, in terms of the structure of the government. Taiwan stands as a young vibrant democracy in the face of a global power that is right on their doorstep and threatening them, and I think it's inspiring. It's also obviously scary, so I'm inspired to try to help Taiwan as well as people in general with this fight that we're in.
That's also part of the reason why we have such a playful name: to open up what we're doing to people who traditionally would not be open to getting so involved in something as touchy as human rights and freedoms. It feels heavy and it's also typically the area for only NGOs or activists or politicians, but I want everyday people – people in technology like ourselves, investors, business people, any walk of life – to feel like they can be a part of this, to participate without being hardcore or labeled a radical.
KM: Since launching two months ago, what has reception for Snowball been like?
Colin: In general, we're trying to make it clearer what we aim to do, and that's been our challenge. Most people try to understand us from an NGO perspective, but we're not an NGO or a startup yet, we're kind of just trying to build a community first, and that can be a little confusing for people.
Overall the reception is very positive. We've met a lot of people in the community who stand out both online and in person who were open to meeting with us and coming into our events. But we're still in our early days, so a big part of our vision is having the community help us determine where we want to focus our efforts, how we can take action and build tools, or build the movement to have a bigger effect. We don't have all the answers, just some ideas and a general direction, but we want our community with people from all walks of life and expertise to give us those ideas.
Lynn: I think a lot of the time activism and NGOs give people an impression of being "radical" – I don't mind being radical, but not everyone is an expert in lobbying with corporations or working on policy changes. But there are some people who care about human rights issues, they just don't know where to start. What Snowball tries to do is to make the issues approachable to people from different walks of life, and let them know that, yes, you are related to this.
Zoe: We have selected topics and issues to have more connection with the people, because maybe when people hear about human rights, they think that it's something serious. So like with the pineapple wars and Xinjiang cotton, we bring in our professional speakers, but when we look at the media – both the Chinese side or the foreign side – it's always like, different perspectives or opinions, so we're trying to be in the middle. We don't want to be too political, and that's why we're open for everyone to join the community.
Colin: Yeah, a big part of it is to lower the friction that it takes for more people to join. It's really hard actually, right now, to avoid making purchases that will somehow benefit people that are doing bad things and to only steer your money toward good things. Even with this recent stuff, you can't keep track of all the companies easily, and so we're trying to find ways to lower that friction and make it easier to just do a little bit better in all of our individual lives, and then the overall impact can be much bigger. That's where our name comes from, by the way, like the snowball effect. You get rolling and then you have momentum.
KM: Why did you choose to focus on Xinjiang for your next event? And to follow up on Snowball's messaging, what is the best course of action for the average person to effect change when it comes to these geopolitical issues that are so much bigger than the individual?
Colin: Our focus for this event is part serendipity, and part because we saw great alignment with what's going on with companies like H&M taking action because of collective pressure and effort by organizers and people who have spoken out and said "It matters to us where your sources are from, it matters to us that your manufacturing is coming from people who are forced into labor camps and who are being repressed", so it was a really good example for us to hold out as an example of companies which are doing something that is going to help the world if more companies did that. So we want to highlight that, and kind of show that this is one aspect of what Snowball can encourage and have an effect on.
Lynn: Personally I have cared about the Xinjiang issue for a long time, but when I saw Wu'er Kaixi's tweet about going to shop at H&M Ximen (in Taipei), I understood the gesture that he was trying to do, because he's a long time human rights and Uyghur activist in Taiwan, and for him to be shopping at H&M, I know what the gesture means. Luckily we got an interview with him, so we had a short video clip, and then it went a bit viral on his page.

H&M is a very popular brand, and I think recent events started to make people think more cautiously and consciously like, oh, the things I wear everyday are actually related to things that are far away, and if you choose the right product or buy from the right company, we're actually already making a contribution. That's where we link human rights and buying power together.
(Feature photo courtesy of Snowball)
This article originally appeared in the Ketagalan Media.
---
About the author: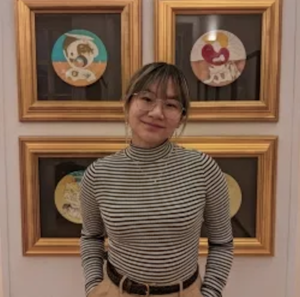 Aurora Chang
is a student at University College London in History, Politics and Economics. She is active in NGOs including NOW!, Project Taiwan, and Taiwan Mixed, taking part in protests, events coordinating, research, writing, web design and social media management. Her interests include the human rights and foreign policy, with a specific regional interest in Russia, East Asia, and Central Asia. She currently manages social media for Ketagalan Media.